"The Five-Year Engagement" is a delightful romantic comedy produced by Judd Apatow (the same guy who brought you gems such as "Forgetting Sarah Marshall" and "Bridesmaids"). It was also co-written by the charming life-size teddy bear that is Jason Segel. This movie tells the story of a couple who are both gung-ho about their careers and what happens when one, Tom, must compromise his possible success so his fiancé Violet can live her dream.
The Cast
It is perfect. Now, I don't like to throw that word around often but the actors filled their role of dumbass best friend Alex (Chris Pratt), loving and charming sister Suzie (Alison Brie-who does a great Emily Blunt impression!) and of course the main couple, Violet (Emily Blunt) and Tom (Jason Segel) who have so much gosh-darn chemistry it pretty much made the movie. Emily Blunt being her witty, silly, charming self as Violet, an academic who wants to become a psychology professor, is so fun to watch. She is beautiful, funny, and super silly which make for a great combination.
It Gets Pretty Dark
Like most Judd Apatow comedies…alright, like all Judd Apatow comedies, a dark side does emerge, but that certainly does not mean the funny stops. When Tom and Violet move to Michigan from San Francisco so she can start trying to live her dream as a psychology professor working at the University of Michigan, Tom begins to crawl into a dark, depressive shell as he can't find work in his own field, which is as a chef. Somehow, at this point, the movie gets even funnier. I really can't spoil anything because the moments will be ruined, but the key words of "hunting" and "sweaters" will allude to some of the funniest moments.
;
Also, it's Kind of a Weird Movie
The movie goes to dark places, yes, (like having Violet get hit with an arrow) but there was something a bit odd about it as well. This is not a bad thing as I realized what made it odd was the fact that it didn't follow the stereotypical rom-com plot line. There was of course a big moment where Violet wants to just get married NOW, which is usually the end of a romantic comedy where suddenly the characters move on from their differences and are just like, "yeah, let's just get married because all of our problems before were just silly." That's definitely not what happens here, there are several highs and lows within the relationship which makes it seem much more authentic.
"There is no perfect cookie!"
Judd Apatow's wonderfully realistic look at relationships is so refreshing. This movie is not out to show a love story that seems ethereal and awe-inspiring. It is a movie about a real relationship between real people who want to be together, but sometimes life is a bitch. There is no perfect man or woman for a person. There will be disagreements and hardships- it's life, not a fairy tale.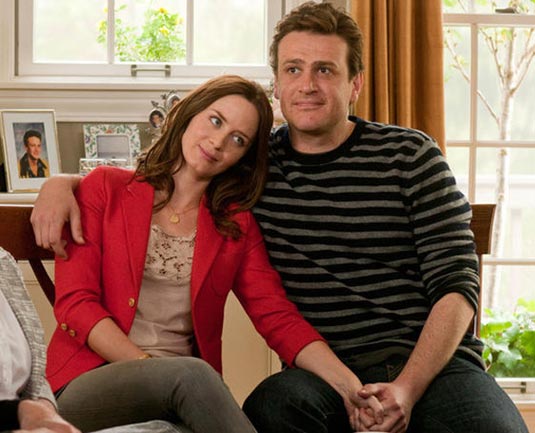 This is Not a Chick-Flick
Just because the movie deals with marriage doesn't mean it's a chick flick, and I'm not using that term in a derogatory way, chick flicks have their fun. However, this is a movie that's filled with dark and crass humor and it is so utterly enjoyable for everyone, it shouldn't be pigeon-holed towards a certain demographic. This movie's demographic is any adult who has been in a relationship- it applies to so many people!
Overall, this movie is charming. Albeit, the time spent in the magical land of "Michigan" is strange as it's never named where exactly they are in that state, also, I feel Jason Segel nor Nicholas Stoller have never actually lived in Michigan and just focused on crazy stereotypes to depict how different life is there compared to San Francisco. But that's just a small bump in an overall delightful, funny, and authentically charming movie starring two actors who need to do more stuff together as they have just spectacular chemistry.
My Rating:
8/10