I know it might be a tad early for Oscar talk, the nominees aren't even announced until the end of January. However, with all of that kerfuffle around who will host and who is going to produce the telecast, I thought it would be nice to talk about the main feature to the show – the Best Picture Nominee's. This year anywhere between 5 and 10 films can be nominated, not solely 10, only the best of the year. But there is definitely tons of heavy competition this year. I have a feeling 10 pictures will be nominated. Heavy hitters like Woody Allen, George Clooney, Brad Pitt, and well, the entire cast of The Help, are involved in the most exciting Best Picture Race in a long time.
5. Midnight in Paris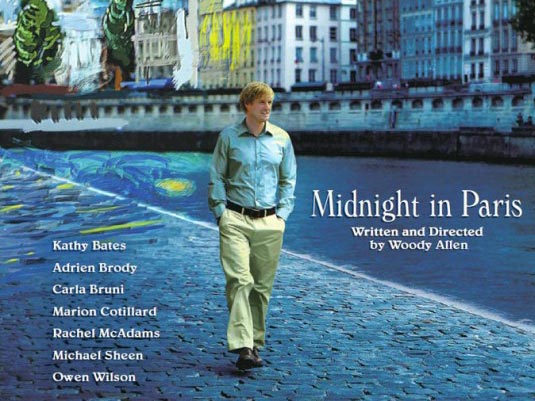 Woody Allen directs, and Owen Wilson and Rachel McAdams star in this adorable little fantasy-type movie. Paris is known as a magical, romantic city where many of the world's most famous writers visited or resided for a time. When midnight strikes, that magical, fairy tale time where you know stuff is gonna go down, Gil (Owen Wilson) a writer comes across a cab full of people who claim to be famous writers repeatedly throughout the film. It's a romantic comedy that's heavy on the romance. Everything is romanticized in this dream of a movie- Paris, love, time periods gone by, the lives of famous
writers…It is an absolutely escapist film that lets those of us who dream of writing, painting, etc. leave the real world and escape to a land where travelling back to meet your muses is possible. And isn't escaping the drudgery of everyday life what cinema is for?
4. Super 8
This J.J. Abrams instant classic has to be nominated. There is really no way around it. It is everything. It's an action/adventure, comedy, coming-of-age, family drama mixed into one. It has a cast of kids that are
going to be stars and weren't even slightly annoying. Kids in movies always tend to be one dimensional and the ones who hold the action back. But oh my, not in this case, the children rule all. They are of their age, but so much more mature. It lends a light into how kids really think and act. And we can all relate. We have all been there. Maybe not chasing aliens and making awesome movies, but we have all been a child.
3. Ides of March
With the powerhouse cast of Ryan Gosling, George Clooney, Philip Seymour Hoffman, and Paul Giamatti, this movie never had the chance to be bad. With Clooney writing and directing, you know it's going to be a slick piece of awesome. And with the beginnings of the American campaign trail for election happening as we speak, the political subject matter is in the forefront of American audience's minds.
2. Moneyball
American sweetheart Brad Pitt stars in this all-American flick about America's favourite past time – baseball. The movie, with its story line of the little guy coming out on top, is an instant American classic in the way Remember the Titans was. And Remember the Titans wasn't just about football the way Moneyball isn't just about baseball. It's about the politics, camaraderie, and finances involved in the sport. Like The Blind Side, how can something this American not get nominated?
1. The Help
This has been getting Oscar buzz since the summer. It tackles difficult subject matter in a stellar story with an outstanding cast. Emma Stone, Jessica Chastain, Viola Davis, Octavia Spencer, Bryce Dallas Howard all star in this amazingly framed tale of African-American suppression in the southern USA during the middle of the 20th century. Great performances, great story-telling, great filmmaking, amazing chemistry, and interesting story all add up to the must-be-nominated film of the year.
These are very preliminary choices (also not listed in any specific order) and some surprises may spring up and give the Oscar race new direction. But these are definitely the ones to beat so far.