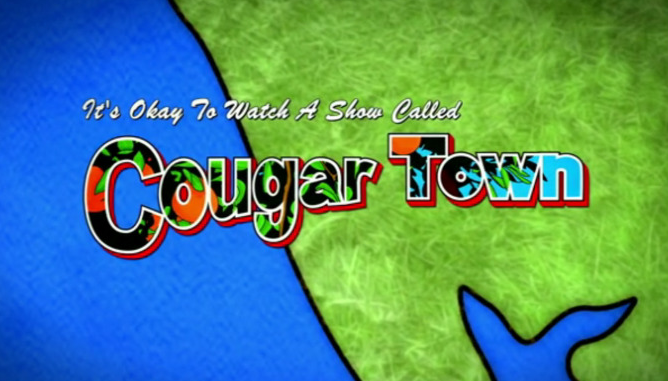 What's In a Name?
The names of shows usually connect with the core premise of the show or are broad enough that no one questions it. 'Work It' was a perfect title for an abysmal show as it represented the shows elements of cross-dressing and unemployment. Others like '30 Rock' and 'Community' are so broad that the writers do not have to even worry about which direction the show goes. 'Cougar Town' on the other hand is a title that has become so irrelevant to every aspect of the series that it hinders the subtle inner-awesome that the show contains.
Many know 'Cougar Town' as being one of Abed's favourite shows on 'Community', but it is far from just being a punch line. 'Cougar Town' is a Bill Lawrence created sitcom that airs on ABC. Bill Lawrence is also known for creating the brilliant 'Scrubs' and 'Clone High'. It stars Courtney Cox ('Friends'), Christa Miller ('Scrubs'), Busy Phillips ('Dawson's Creek') and Dan Byrd ('Easy A'). It is currently on its third season.
The Show's Evolution
The show's premise has changed drastically since its beginning. Initially 'Cougar Town' is about Jules Cobb, a forty-something single-mother played by Courtney Cox, as she tries to capture her youth by pursuing younger men for sex. This was chuckle worthy, but it did not capitalize on the comedic-chops of the supporting cast. Roughly half-way through the first season the focus of the show moved away from Jules trying to bang her son's classmates to Jules and her friends and family sitting around and drinking wine. This provides a lot of good spirited light comedy with an ample amount of insanity, similar to the brighter moments of 'Scrubs'.
Making the show grounded upon just being a 'hang-out' comedy has given the show far more freedom. Example plots include Jules hating on her son's girlfriend for breaking her favourite wine glass, Jule's ex-husband Bobby installing a zip-line between two houses and the gang fighting back against teenage hoodlums who have been terrorizing the cul-de-sac. The show is highly capable of tugging at heart-strings as well. Like 'Scrubs', 'Cougar Town' knows how to balance the drama and comedy to make you truly care about the characters' struggles but to be sure to keep you coming back for a laugh.
"I will not judge a book by it's cover…"
'Cougar Town' creator Bill Lawrence is notorious for his hatred for the title of his own show. He has pushed for changing the name of the show but without any luck. This has led to 'Cougar Town' using a opening title gag similar to 'The Simpson's' chalkboard scripture. Each episode in the second and third season features a crack at how unfitting 'Cougar Town' is as a title in a very humourous way. The latest season's marketing campaign includes the tagline 'bad title, good comedy'. Probably the most fitting way to describe the show.
One can easily pop into any episode of 'Cougar Town' and not feel lost. It is currently on its best quality streak yet at the moment so now is better than ever to hop onto the bandwagon.  It is consistent, charming and good-spirited and it is only getting better. If you want to have some good laughs, then follow the advice that the show gives and ignore the awful title and come on in and hang out for half an hour with this hilarious group of friends.
My Rating: 8/10