Nirvanna the Band the Show is one of the funniest things I've seen in a long time. And yet I have no idea how to talk about it. Sure, I can draw comparisons of styles between Borat, The Office, Kenny Vs. Spenny and Flight of the Conchords. While Nirvanna (two n's for copyright purposes) takes inspiration from all of these, it's still very much its own thing.
The premise is simple. Two musicians in Toronto (Matt Johnson & Jay McCarrol) want to book a gig to play at The Rivoli. Getting the booking however, isn't so simple. Especially when these guys have never performed or written any songs in their life, but that's hardly the issue. The series documents their cavalcade of publicity stunts to reach their goal.
"Oh my god, we're famous."
It's my opinion that the funniest goals a character can have are also the most trivial. The Rivoli has its reputation as a Canadian landmark, but Nirvanna presents it so nonchalantly that it hardly seems an immovable object. It's more the object that just sits there while our heroes wander about aimlessly, finding themselves in more trouble from their own schemes than anything remotely concerned with The Rivoli itself. Those are the funniest stories to me, where the characters create their own conflicts.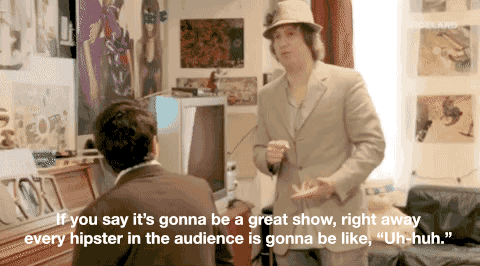 What's cool about these conflicts is the execution. Nirvanna the Band the Show is largely filmed guerrilla-style. Matt and Jay play exaggerations of themselves, riding on a loose narrative. When they don't stay in their apartment, riffing off each other like buddies since kindergarten, they're playing off of passersby in Downtown Toronto. It'd be foolish to assume everyone they meet is a real, unpaid person, but so many of the reactions to Matt and Jay's shenanigans feel so authentic that it's hard to distinguish. They use each reaction as a chance to set up or pay off a joke. Early in one episode, a stranger's sarcastic comment on Jay's fumbling with devil sticks becomes his emotional vulnerability for the episode.
"Is it worth risking this kid's life for a chance to play at The Rivoli?"
"Yeah."
I'm just going to call Occam's Razor and say most of what happens outside the apartment (ex. getting kicked out of The Force Awakens screening) is real. But even if it wasn't (ex. stealing a sick kid from the hospital), I wouldn't care. Everything that happens on Nirvanna the Band the Show feels as true to life as it feels necessary to the story. The show somehow blends the principles of improvised character acting with the principle of Chekov's Gun. Many little details that come off as nonsequiturs find their way into the conclusion and punchline of the episode. It's like Sherlock but comedy, and it makes the show wholy rewatchable.
And that's really what makes Nirvanna the Band the Show so special. It's a story in constant motion that, somehow, ends up exactly where it needs to. The presentation is so natural that even if you can't buy it as such, you can at least appreciate the effort to make it look so. It's a genius mix of cinematography, editing, and writing, topped off by two guys who are as on-the-ball as they are affable. What else can I say? Go watch this show.
My Rating:
9.5/10